"Arise, shine, for your light has come, and the glory of the LORD rises upon you. See, darkness covers the earth and thick darkness is over the peoples, but the LORD rises upon you and his glory appears over you. Nations will come to your light, and kings to the brightness of your dawn." (Isaiah 60:1-3).

We're here. We've arrived. At Bethlehem, and if you're reading this, you've arrived intact and, undoubtedly, with some relief.
Me too.
And of all the greetings I could send your way in the earliest hours of this occasioned day … of all the clever and enchanting ways I could paint this moment with my words, none would suffice to adequately capture the truth of what this pilgrimage has meant and continues to mean to me.
None, except, perhaps this picture.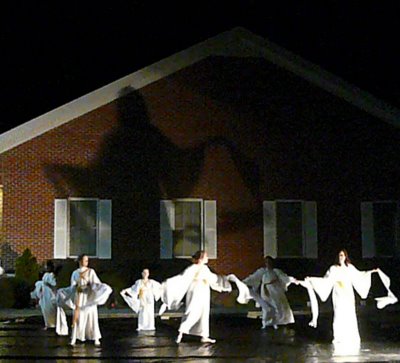 They say
a picture is worth 1000 words
. I say this one is worthy of a few more. Not because of its superior quality. It comes close to failure in that department. But rather because of the eternal truth it scripts.
Our Light has come … has entered into our darkness. Not to shatter us into a pile of irretrievable pieces, but to illuminate us with the single truth…
of Bethlehem's pause.
of creation's purpose.
of our reason for being given this season of influence in our lives.

Never will our God shine brighter, loom larger, or beam bigger then when he is given the permission to illuminate his heart and love through the likes of you and me. At least not on this side of eternity.
There is coming a day when our faith will be made sight, and our fleshly attempts at being his light will fall prey and bow down to the weight of his inapproachable light. But until then, we are given the inconceivable privilege of housing his grace and his eternal flicker of hope.
We are the keepers of God's Light. The tenders of a sacred wick that is meant to flame with the heat of a Father's holy passion. Our failure to understand the depth of such a holy privilege not only leaves us as we are, but also succeeds in leaving others as they are.
In the dark and without hope. Confused and groping for the way home.
When we fail to reason God's unreasonable as our assigned portion and to allow his living pulse to become our living breath, we live less. We walk smaller and not as God intended. He intends for us to live within and beneath the shadow of his accompanying presence each day and in full and unsuspecting ways. He means for others to see him through us. Thus, our membership in his household called faith and in his kingdom called Christendom.
We live selfish when we shine God's Light in isolation. We mock Bethlehem and its mangered pause when we neglect to walk the fulfillment of its illumination … when we turn a deaf ear and a blind eye to the Matthew 5:14's and 26:18's of God's Holy writ.
Nations have been assigned to God's Light via our vessels. There are those who will walk home to Jesus because our candles have been the faithful radiance to shine the way. When we bow in holy submission to such Light, we pay high and holy honor to our created purpose. When we walk proud and with little regard to such privilege, we damper God's illumination.
Does he really need us in order to shine big?
Not really, but his grace allows us the consecrated participation. And when it happens, when our exposure allows Christ his, we experience a fullness that exceeds the solitary whispers of a single flame. We land our lives squarely in the middle of a roaring, Holy Spirit, Jesus-breathing, burning bush kind of revelation. Not the kind that burns to ashes, but rather the type that burns to pure.
To perfection and to a knowing that rests easy with the flaming wick and that concedes the heart to the tending therein.
I don't know about you, but I want to be the luminary that shines forth our Father's light. I want to be pure, and I want the joy of seeing others see him because of my privileged participation in the matter. The one God who shines brighter, looms larger, and beams bigger because I've allowed him a home in my heart.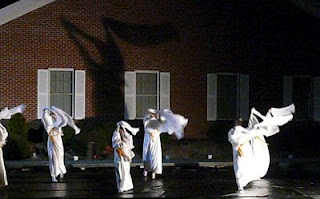 Today I will watch young and old come to the manger to receive the gift of Christmas. Together, we will unwrap another year's worth of spending and doing in short order. But when evening comes, when the bows and paper and plates have been cleared away and my head finds its rest, I pray that my loved ones will have unwrapped more than my meager attempts at love. I pray that they will have seen God in our midst, casting his high and holy shadow through the single flame of my willing heart.
If I can show them Jesus this Christmas, then holy intention has walked its course, and my life has served good purpose.
I pray the same for you, my friends. Holy intention and good purpose lived through you with every package opened, with every smile given, with every difficult relative loved, and with every kindness offered. May God's Light within you be the flame that lights up your home this Christmas with the warmth and the truth of Bethlehem's sacred pause.
Arise and shine, for your Light has come.
Merry Christmas, precious friends. From my home to yours. It is my joy and privilege to break bread with you in this season of my life.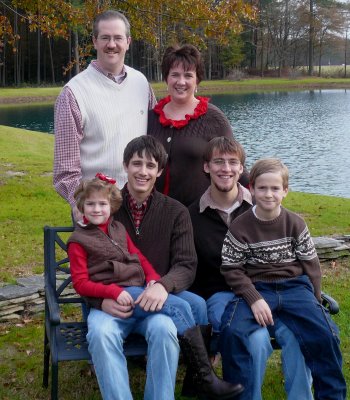 As always,