"Now may the Lord of peace himself give you peace at all times and in every way. The Lord be with all of you." (2 Thessalonians 3:16).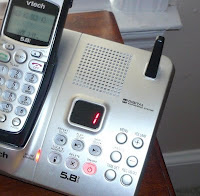 The call came in just a few minutes ago. 7:48 AM, per usual. Normally, I catch the call, but the phone was hiding elsewhere. There was nothing new about his message. Just his voice reminding me that he had safely made it to his destination.
"Hey, momma. I'm here at school. Have a good day. Love you. Bye."

His words interrupted my train of thought—a train hunkered down and in the middle of 2nd Timothy and the apostle Paul's chains. I looked up for a moment and tearfully echoed my response back to my son with an outstretched hand extended in the direction of the answering machine.
"Love you too, baby. Go with God today. Be with God. Let him be your light."
He couldn't hear me. But God could, and between the two of us—me and God—a message of peaceful intention was instantly carried from this mother's heart to the heart of her child, despite the ten mile chasm between us.
With those few words of exchange, albeit spoken into the air and without the benefit of a face to face communication, my thoughts have shifted from Paul's chains toward the pondering of something else.
Paul's benedictions.
From Romans to Hebrews, and every book in between, Paul concludes his teaching letters with a benediction—words of blessing and final encouragement. Words like…
"Now to him who is able to establish you by my gospel and the proclamation of Jesus Christ,… to the only wise God be glory forever through Jesus Christ! Amen." (Romans 16:25-27).
"The grace of the Lord Jesus be with you. My love to all of you in Christ Jesus. Amen. (1 Corinthians 16:23-24).
"May the grace of the Lord Jesus Christ, and the love of God, and the fellowship of the Holy Spirit be with you all." (2 Corinthians 13:14).

Words like that. And even though the recipients of said words, both then and now, didn't hear them as I imagine Paul voicing them while he wrote, God did. God does. And between the two of them—Paul and the Holy Spirit of God—a message of peaceful intention has been carried from one saint's heart to another, despite the 2000 year chasm between us.
Paul understood the power of a blessed benediction. He punctuated his "hard" teachings with words like grace and peace and love. And while we may not fully understand the depth of all that Paul was trying to say within his letters, it is easy for us to receive and to get our hearts around his endings.
As it was with Paul's "sincerely's" and "postscripts," so it is with ours. Thus, a question or two.
How goes it with the blessed ending of our words? The crescendo of our communications? The climax of our conclusions? The closing of our conversations?

How do we punctuate our exchanges with humanity? When others walk away from our wordy embraces, do they walk away with grace and peace and love? Or do they walk away with something to the contrary? With … confusion … sorrow … bitterness … nothingness?

When we close our letters, when we finish our phone calls, after we spell check our emails and polish our correspondence into ship-shape, when we conclude our meetings (whether in the boardroom or around the kitchen table), when we finally reach the end of all that we're trying to say…

how will we say it? Furthermore, will we say it, or will we leave our words dangling in mid-air, hoping for their soft landing and subsequent understanding but not giving much thought to their conclusion?



Benedictions. They are ours to give, ours to write and ours to speak. When we refuse them their voice, we've spoken less even though God intends for us to speak more. His more—his words when we've finally come to the end of ours.

It's not all about the preacher's moment. We think it is. After all, benediction is a bulletin word—a "holy" kind of word that follows the sermon. But you and I, we are a holy kind of people bringing God's truth to this world. Our lives are intended to read as a sermon. And when we get to the end of it, a little grace and peace and love is the perfect punctuation to a well-spoken … a well-lived … life.

I don't want my words or my life to conclude with confusion and nothingness. I want my benedictions to read everlasting and on purpose so that years from now, they will serve as a lasting memorial from my heart to the generation of hearts who are coming up behind me. They may not hear my words now, even as I voice them while I type, but between the two of us—me and my extraordinary God—I believe in their preservation.

May they always be found worthy of such sacred perpetuation. Thus, I pray…

Benedict my life with your sacred punctuation, Father. With your words of grace and peace and love. May the utterings of this mouth and the overflow of this heart be used to point others to the cross. Never let my busy forsake the blessing of others. Instead, remind me to finish well—my conversations and my life. Let the conclusion of my words be filled with the conclusion of your truth, and let your truth be the grand conclusion of the conversation that I now carry in my heart. Amen and amen.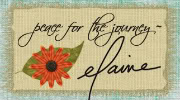 PS: My benediction to you this day via the words of the Apostle Paul as found in Hebrews 13:20-21.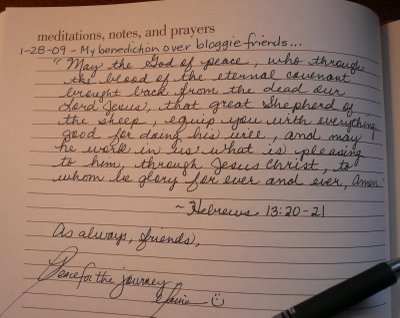 You might also like: