"However, as it is written: 'No eye has seen, no ear has heard, no mind has conceived what God has prepared for those who love him'—but God has revealed it to us by his Spirit. The Spirit searches all things, even the deep things of God. … We have not received the spirit of the world but the Spirit who is from God, that we may understand what God has freely given us." (1 Corinthians 1:9-10, 12).

What was God thinking?

I tell you what I think that he was thinking about when he made this magnificent creature.
Perception.
Of all the created land animals God placed in the garden, none stands taller than the giraffe. They frame long and lean. They paint gold and brown. They pattern significant and intentional. They stand strong and proud. And they stretch deep and high with a neck designed…
for perception.
for seeing above and beyond the horizontal.
for reaching high to grasp the provision of One higher.
Of all the creatures I witnessed on my recent trip to the zoo, the giraffes were the ones that garnered my heartiest admiration. They are beautiful beyond description. Seeing them in picture books and movies falls short of the real thing. Pictures don't breathe as three dimensional. They paint flat. But witnessing a giraffe first hand is like walking into the canvas of a painter's work in progress. This kind of palette colors vivid and real and alive with a garden's pulse.
There is something about a giraffe that speaks of Eden.
Giraffes embody man's impossibility. No test tube or scientific mutation could birth such a divine oddity. Science is too exacting for such an extreme. But God? Well, impossible and extremes are in keeping with his divinity. Eden birthed the limitless possibility of perfection. Its soil grew with the lush and green and abundance of a Father's creative genius. No creature was too great or too small to pasture its soil. They simply fit.
And woven into that fitting is the one creature that offers a dimensional perspective that completes the picture of sacred visioning.

Giraffes were created with the stretch in mind. Their chins lift higher. Their mouths taste higher. Their eyes see higher. Their thoughts conceive higher, for higher is their assigned portion. Bending to taste from a soil's dirt is a difficult stretch for a giraffe. But stretching to taste from a tree's first fruits is an easy and reasonable reach. Giraffes were designed for higher living.
So are we.
God designed us for the stretch. For a perspective that breeds hope and faith and the conceiving of the inconceivable. God intends for us to live tall with our chins toward heaven for the receiving. All too often, though, we are content to mire our thoughts at ground level and to grovel for our soul's sustenance within the soil of a well-trodden path. Problem is…
Well worn paths have known a good picking and no longer soil the seed of perception.

Giraffes never have that problem. They find pasture with the untasted, less trampled fruits of a higher perspective. Their stretch allows them unlimited possibilities for the feeding. They walk above and beyond the horizontal in order to take hold an abundance that can only be found in high places.
I want to be like a giraffe. I want to find my stretch. I want to see with my eyes, and hear with my ears, and conceive with my mind the sure promise of high living. I think you want this too. But here's the deal. For high living to happen, we have got to trade in our well-worn perspective for kingdom perspective.
We will never live our stretch until we get our noses out of the dirt and begin to feast on the fruit of an untasted abundance. God has filled our lives with an edenic portion of lush and green and fertile. It seeds in the pages of his Word and in the fellowship of his Holy Spirit.
We have been given everything we need to live at this higher level. We have been given the mind of Christ and the capacity to know the One and only living God. Through the power of his Holy Spirit we can more fully comprehend his thoughts and the spiritual truths that radiate from his core.
This, my friends, is three dimensional living on the canvas of a Painter's work in progress. It breathes with the palette of Eden's perfection. It paints with the vertical in mind and with a heart's stretch that isn't afraid…
to perceive higher.
to reach further.
to strain for the better.
to press on to take hold of a first fruits' provision, seeded by the very hands of God.

Indeed, our God was thinking when he made this magnificent creature. Mr. Giraffe has certainly made an impression on me. Thus, I pray…
Thank you, Father, for dreaming the giraffe. I cannot imagine the full measure of your wisdom in the matter, but I am confident that he brings you much joy. He's led me to my pondering this day and taught me something about living with perception. Forgive me, Lord, when I keep my chin down and refuse the provision of a higher sustenance. Remind me to look up. To live up, and to stretch up in order to take hold of your kingdom perspective. Thank you for perceiving my possibility even when my eyes refuse the vision. You are my mind and my heart's desire this day. Give me the faith to conceive the inconceivable. Amen.
Copyright © July 2008 – Elaine Olsen. All rights reserved.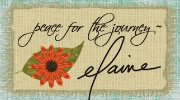 You might also like: