"Then God said, 'Let us make man in our image, in our likeness, and let them rule over the fish of the sea and the birds of the air, over the livestock, over all the earth, and over all the creatures that move along the ground. So God created man in his own image, in the image of God he created him; male and female he created them." (Genesis 1:26-27).
I've been to the zoo this week. No, not the one that currently shares my mailing address but, instead, the one that includes real animals. The Asheboro Zoo.
It has been eight years since my last visit. I imagine it will be at least another eight before I muster the "want to" to go again. On this occasion, my "want to" was largely based on my children's desire. With dad out of the country, I thought it a good occasion to make our pilgrimage. It was. Sort of.
Good because…
*My parents made the trip with us.
*The crowds were way down.
*It was relatively cheap entertainment.
*It wore my kids out (not to mention their three chaperones).
*The animals provided enough fodder for a week's worth of blogging.

Less good because…
*The temperatures soared to 90+ degrees.
*The real life habitats (while ideal for the animals) required a great deal of walking.
*The animals were apparently notified of the heat and the diminishing crowds and responded accordingly.
*Worn out kids make for ill-fitted companions.
*If you're not into pondering the sacred possibilities of a zoo's visit, I may lose you as a reader.
Zoos are not God's design. They are man's way of containing and controlling some species that were originally designed for life without boundaries. They're not evil. They're simply not perfect. In a perfect world, animals and man cohabitate as one. In a fallen world, they separate and live as individual.
I noticed this tension more profoundly with my visit. Perhaps it is my age. When younger, my fear of the unknown warranted and validated the separation. But as I have matured, so has my desire for some unity with God's creatures. I want to touch and to talk with and to tend them with the familiarity that was first birthed in a garden. I want the bars of our separation to disappear and the freedom of Eden to breathe its return upon this soil.
But what I want awaits another season—a time when God finally clarifies the matter within beast and man alike. Thus, I'm left with cages and confinement and contemplation at a distance. And the contemplation that most deeply stirs my spirit this night is the realization that…
Cages breed lethargy. Confinement breeds less than.

What I wanted to see was a roaring lion.
What I saw instead was this.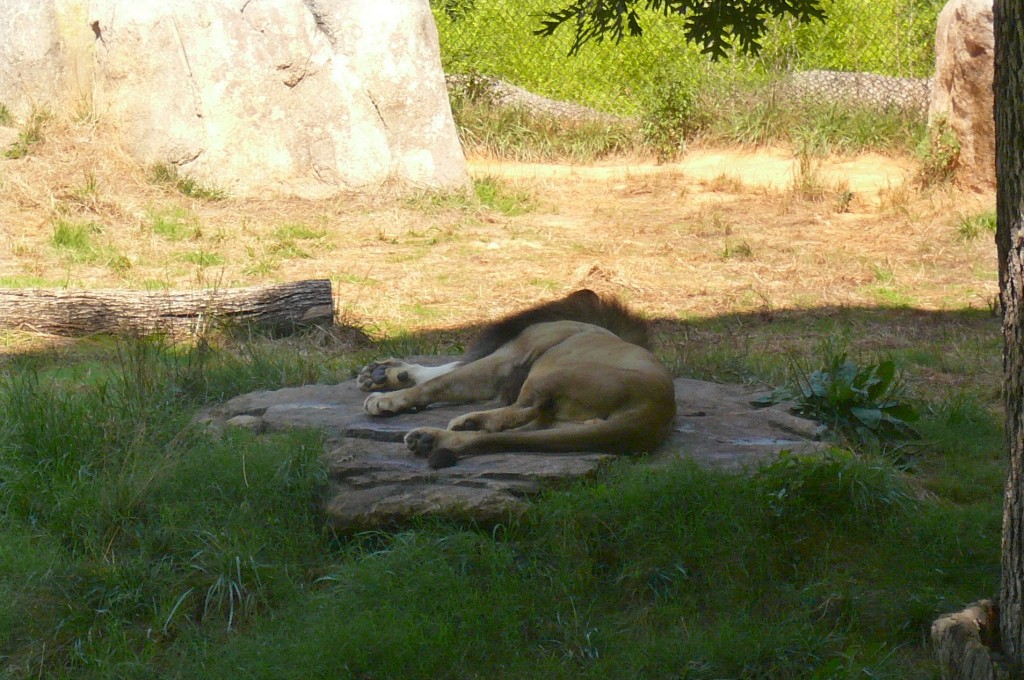 The king of the created four-footers was hot and tired. He had no use for the onlookers and even less use for the roar bottled up within his seemingly gaunt frame. No amount of my cajoling could rouse him from his lethargy. He is simply living as he is parametered.
Less than.

This the way of man's confinement. It always lives as captive and breeds a posture of defeat. An imperfect existence. A functional one, but never the perfection that God intended on the front end of things.
What God intends for his created is freedom. A posture of victory. An existence that exceeds function to breed and to breathe the truth of a lavish grace that brings all creatures to a completed and perfected end.
He means for us to roar and to take ownership of the liberty that is ours in Jesus Christ. Bars and cages and control have no place inside the kingdom that belongs to the King. For…
"It is for freedom that Christ has set us free. Stand firm, then, and do not let yourselves be burdened again by the yoke of slavery." (Galatians 5:1).

A high price was paid for our emancipation. Walking the value of such a sacred exchange is left up to us. We can allow man his framing of our existence or we can stand firm in the freedom that comes to us through the framing of the cross. Christ willingly embraced man's confinement via two wooden beams, but even then, nails and timber could not hold him…not forever. They simply held him long enough for love's redeeming work to walk its course.
And when that course was finished, the Lion of the tribe of Judah had some roar still bottled up within. On the third day, he allowed it the voice that reverberates freedom's battle cry two thousand years down the road. He broke the chains of confining sin and death so that we could chorus our roar in unison with his. Our choice in the matter remains exactly that. Ours.
We can choose our less than or we can throw our head back, open our mouths, and sound the victory that echoes loud and large and as an everlasting witness to the liberty found in Jesus Christ alone.
I don't know about you, but that is some sacred possibility drawn from a visit to the zoo. It is something that's got me thinking tonight and so I pray…
Thank you, Father, for the gift of perspective…for a lesson from a lion. You knew how it would speak even before it was voiced. Keep me from my lethargy and less than, and move me toward the freedom that is mine because of your confinement at Calvary. Thank you for your created creatures that breathe the witness of your magnificent plan. Brings us all to our everlasting that will walk without parameters and that will allow us to live as one. Amen.
Copyright © July 2008 – Elaine Olsen. All rights reserved.