"'I am the vine; you are the branches. If a man remains in me and I in him, he will bear much fruit; apart from me you can do nothing. … This is to my Father's glory, that you bear much fruit, showing yourselves to be my disciples.'" (John 15:5, 8).

They arrived this week. Packaged with care and wrapped in love. My vintage treasures.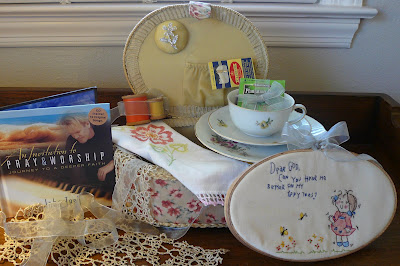 from Liz at Kentucky Bound
A tea cup, a handkerchief, some lace, and embroidered linen. A decorative pin, a sewing basket, some needles, and some thread. A CD, a book, some candles and some tea. Old and new treasures given to me because the luck of the draw landed in my favor.
I've never received such a gift. Partly because of the giver—someone I have never met face to face but someone who is growing dearer to me with each blogging encounter—and partly, because of the gift's contents. Somebody's "old" became this girl's "new", and I am moved by the gesture. Not because it is the right and polite way to react but because there is something wonderfully significant attached to the owning of another's treasure from, perhaps, another era in history.
The gifts that arrived on my doorstep used to belong to someone…used to matter to someone. Now they belong to me, and I am free to do with them as I please. And right now what pleases me most is the contemplation of their worth…of their vintage significance. Not with a dollars and cents kind of worth, but with a value that extends beyond an earthly understanding.
Vintage. A word that means…
"(1) the wine from a certain crop of grapes;(2) a year's crop of grapes; (3) the season of gathering grapes and making wine; (4) outstanding quality, choice; (5) type of thing fashionable or popular during an earlier season."[i]

And while definition #5 seems to define the treasure in question, I am struck by the originating definition of word which is represented in the other four definitions—the choice wine from a certain crop of grapes grown in season within a particular year, and usually sown within the soil of a selected vineyard.[ii]
With vintage comes specificity. Selective choice. Particular taste.
With vintage comes a seasoned approach to the cultivation of grapes, therefore leading to the production of a wine that is meant to be savored in seasons yet to come.
And while my vintage treasure doesn't boast a bottle of fine wine, I see the connection between the two. My gifts are the treasures from a season past. Treasures that have grown more precious and, perhaps, more valuable as time has turned its clock. Ask the original owners of said treasures and they would most likely respond with something along the lines of…
I remember when my husband gave me that pin on our wedding anniversary. That sewing basket sat beside my bed. The lace once adorned my dresser. That embroidery? I needled that when I was ten. And that tea cup? Let me tell you about some of the conversations and prayers I had over that cup of seasoned brew.

Indeed, my vintage treasures hold some value. Not from a financial perspective, but from a seasoned perspective. They were first cultivated within the soil of someone's past, and now they have made their way to the table of my current. I will savor their flavor for a season, and then, perhaps, pass them along for a savoring yet to come.
This is the simple joy of a vintage treasure. It retains its flavor beyond the era in which it was birthed.
Two thousands years ago, a Vine grew upon the soil of Calvary's vineyard, the branches of which continue to bear fruit. You and I…we are those branches alongside countless others who have grafted their hearts within the Vine's embrace. We are cultivated for vintage. For the pressing through and for the pouring forth of a choice Wine whose flavor is meant to be savored for all eternity.
Not all will partake. There are those who will sniff around its edges and deem His bouquet too potent…too aromatically displeasing to the smell. Their smells are otherwise inclined…bent toward a sweeter swallow. They forsake a drink of the Vintage for the drunken folly of fools, chasing after the immediate rather than pausing to savor the timeless. They refuse to consider his value because his value is cloaked in old…in yesterday…in a history meant for containment—for an era long gone and since forgotten. Or so they reason.
But this is the simple joy of a vintage treasure…God's treasure. He has retained his flavor beyond the era in which he was birthed.
His is a continuing savor, grown in season—past, present, and future. His Vine never boasts empty and his cup never runs dry. If we, as his branches, refuse his cultivation, there comes along another to pour forth his cup. Jesus will never be fruitless because his wine poured eternal on the day that he hung within God's selected vineyard and bled on our behalf. He was meant for the pressing through and for the pouring forth, and this day I am drunk with gratitude for the gift of God's costly vintage.
Jesus Christ is the finest wine I have ever tasted, and so I pray…
Fill me Father, with the treasure of your Son. Graft me within the Vineyard's embrace and grow me with specificity. And when harvest season arrives, pour me forth as a drink offering upon the soil of my current. Fill my cup to overflow so that a taste of your eternal spills forth into the hearts of men and women who long for a drink of something lasting…something treasured…something vintage. You have transcended the embrace of history to find your place at my table this day. You have become the savor of this girl's heart. Humbly and with the deepest of gratitude, I receive my portioned cup. Amen.