"When you come to the door, kiss me on the cheek so that I know I am safe."
So wrote my daughter on a slip of paper last week. She placed the note in the hallway, next to her bedroom door, so I would see it on my way to bed. At first glance, I thought these might be lyrics from a new Taylor Swift song that my daughter scribbled down. Upon further examination, I realized that these were Amelia's sentiments, not Taylor's. That, in fact, my daughter wanted me to kiss her on the cheek a final time before my own tucking in time. In doing so, she knew she'd be safe.
I suppose she reasoned that I would make it back to her bedroom before she fell asleep, but even if I didn't, just knowing that I was coming and that she was going to be checked on and tucked in one final time was enough to rock sweet Amelia to sleep.
Momma will come to me. Momma will check on me. Momma will touch me. I am safe. I can rest.
There's something about a parent's love that soothes the unrest of the night . . . that moves in to overshadow the darkness and to replace distrust with certainty. Knowing that momma is on the move and making her final round quells the simmering fear of the unknown—the shadows of slumber that slip in and out of dreams, challenging reasonable thoughts.
I am not so unlike my daughter. Sometimes, I, too, need the reassurance of my Father in my darkness. Sometimes, the shadows loom largely on my bedroom wall, and my imagination gets the best of me. Sometimes, tomorrow seems like a long time in coming and a gentle touch on my cheek from a loving parent goes a long way toward soothing the fretful ache within.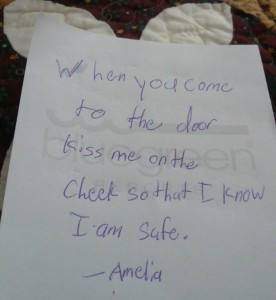 "Daddy, Father, God, when you come to my door, kiss me on the cheek so that I know I am safe."
Safe to sleep. Safe to let go of what I cannot control and to, instead, rest beneath the safety of the night Watchman who has me covered from every angle.
A simple prayer to pray. A simple trust to offer. A simple childlike faith that believes the nighttime is the right time to count on a Father's love. As always . . .
Peace for the journey,


What prayer keeps you safe in the night?
You might also like: