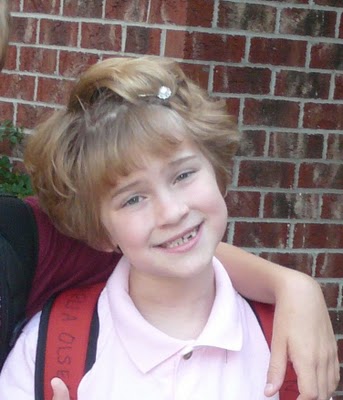 Would you do me a favor? Would you pray for baby girl… my Amelia? Today was the first day of school for my two youngest at their new school. Jadon fared pretty well, but Amelia… well, not so well. She got sick at lunch, played by herself at recess, and didn't go to the bathroom all day. She's extremely fearful regarding the making of new friends and of "doing" her papers correctly. She was inconsolable the entire evening, pleading with me not to make her return to school tomorrow. In addition, she's experiencing bouts of anxiety that somewhat resemble panic attacks.
This tears at my mother's heart, and I'm completely exhausted with it all. I don't know how to help her; in many ways, I relate to her pain and have had my own difficulty navigating these days of change. It's my heart's desire to live with a "thumb's up" approach to daily living. Some days, however, it's tough to keep upright. I'm praying my way through this; I'd appreciate yours as well.
In addition, I'm awaiting word of recent, personal medical tests… never an easy wait.
May God grant each one of us the daily grace we need to push past the confusion and rest peacefully in his good and tender care. Blessed weekend to you and yours. As always…
Peace for the journey,
~elaine
PS: To the relief and praise of her parents' hearts, we were met with a smile this afternoon when picking up Miss Amelia. Thank you, friends, a thousand times over for blessing us with your prayers. It may seem insignificant to some, but to us it means everything. Blessed weekend to you all!