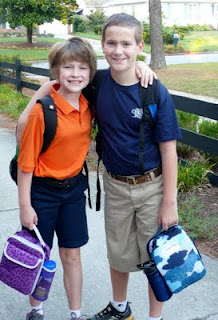 And so … we begin again.
Quite a contrast to where we were standing a year ago. A year ago, our nerves were raw with anticipation and expectation for the beginning of a new academic year. New school; new teachers; new friends; new everything. Brother handled the transition better than sister. She couldn't even eat her breakfast a year ago. Today? A big bowl of Cookie Crisp and smiles to go around.
What's the difference? Why the shift from stress to relief, not just for our baby girl but for all of us on this beginning day of the school year?
One reason. The once "new and unfamiliar" feels more like "old and familiar." Like habit. Like routine. Like safety. A previous year's worth of education in a new school has earned our trust, and all of us are better prepared for the learning that is sure to take place in the upcoming year.
As my children enter into their 4th and 5th grade classrooms this morning, they do so with confidence. Alongside them, I re-enter my own classroom. I haven't a clue what the curriculum will include this year, but I'm willing (like my children) to strap on my book bag, pack my lunch, and sharpen my pencils. Several years' worth of education in the classroom of life has earned my trust, and my confidence rests solely on the Teacher behind the lectern. I pray not a minute wasted and for a teachable heart willing to receive and apply the instruction from the Father's heart.
Old and familiar, yet new and necessary. Like habit. Like routine. Like safety.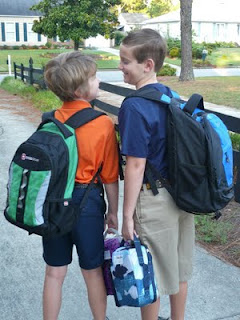 Even so, Lord Jesus, I come to the classroom today. Show me your heart. Teach me your ways. Strengthen my frame. Lengthen my days. The curriculum belongs to you; the learning belongs to me. Humbly I submit my mind, heart, and soul into your loving tutelage. Amen.
You might also like: