"He who dwells in the shelter of the Most High will rest in the shadow of the Almighty. I will say of the LORD, 'He is my refuge and my fortress, my God, in whom I trust.'" (Psalm 91:1-2).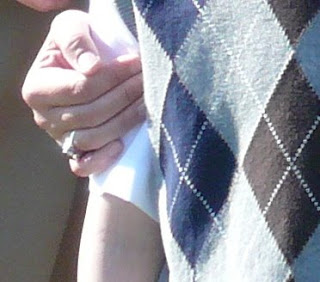 I noticed it today while perusing my family Easter photos.
My grip on my son's arm. Fingers that were content to grab rather than to gently frame. It is a telling photo, friends. One that speaks a witness as to the current condition of my heart. Mine is a heart gripped by the fragments of a broken trust. A heart that is afraid to believe that all is, indeed, well with my soul and that all will continue to live well in the days to come.
God is my shelter, my rest, my refuge and my fortress. In Him, alone, I need to put my trust. I don't always do it, but I need to; thus, I will speak it, even if I don't always fully feel it. Why?
Because it is the truth. God's truth. And His truth is based on fact, not on emotions. If emotions were the rule of the day—the foundation behind our reasoning—our building of anything is as naught and crumbles to a quick death and dust accordingly. That is why truth exists apart from feeling. Feelings often come as a rich flavoring to truth but cannot be relied upon to paint a whole and accurate picture.
I know. I spent most of my forty-three years painting an inadequate faith. Over the past few weeks I've been faithful to add a few more brushstrokes to the mediocrity. It doesn't paint extraordinary, friends. Instead, it paints usual, average, customary and just plain ordinary. Perhaps even less.
There are reasons behind my less. There always are. We don't live less faith because we suddenly decide that "less" is a better swallow than "more"; there is always a driving force behind our less, and for me, that force has been rooted in a deliberate and difficult inward pause to examine the passage of time.
How quickly it comes; how easily it goes, and how fleeting is its remembrance once it has passed.
I notice it more profoundly these days. Age does that. Having a son turn twenty does that. Having a second child graduate from high school does that. Having conversations with aging parents does that. Having a daughter who has finally become too heavy to carry does that. Having a reflection that wrinkles and a frame that wearies does that. On and on I could chronicle the ways in which I've noticed the uncompromising and severity of a clock's ticking.
And while I've long wished for the passage of time in younger seasons, this is the season when keeping it contained seems more urgent, more pressing and increasingly, more necessary. This is the time when the hugs squeeze tighter, the grip holds firmer, and when the words "I love you" speak clearer. Forty-three years of passing the time have given me a gift of sorts.
The gift of understanding … of realizing just how profound each moment should live. Consequently, when it's not living … when moments collect and accumulate and are lived like moments to burn … well, I struggle. It seems they should, each one, live better—breathe with meaning and walk on purpose.
Good in theory; more difficult in the carry through. Why?
Because we somehow have fooled ourselves into thinking that time is ours to control. That another day is ours to live. That what was left undone in our today can be taken care of in our tomorrow. That moments can be replicated, redone and replenished because forty-three years have afforded us the witness of their abundance. That tomorrow … that next week and next year … well, there will be more.
That's the difficult tug of my heart, friends. The struggle of my trust in this season of living. I want more moments that matter. I want to be a conscientious time-spender. I want to capture time, not squander it. I want to profoundly seed my light and influence into the lives of those around me, and then I want to watch them grow and multiply and burgeon beyond my initial investment.
What I want is time. What I've been given?
This moment in time. Right now. My isolated heart beat. My breath that goes in and out of me like a vapor. That's it.
There are likely to be a few more beyond this one, but who am I to say? Who are you to make me that promise? God holds our bookends, friends. Our beginnings and our ends. In between, we are given but a few moments of influence on this earthen sod. They are passing in swift order and will soon be the history of another generation to remember.
And while it shouldn't make me sad, while God doesn't intend for me to stay mired in my emotions regarding time, He's allowed me a moment in this season of living to pause before its authority over my life and over the lives of those I hold dearest.
It is a worthy pause, and as I continue to mine its worth, I do so seeing another picture emerge from an Easter family photograph. Zooming out from my initial grip on my son's arm, I see something else. I see a shadow. A father's arm … a husband's arm that frames both my son and me into the bigger picture. It is a telling photo that speaks a witness as to the current and always condition of my Father's heart.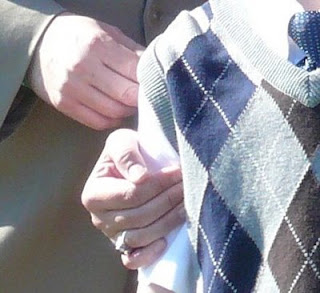 A sheltering love; a shadowing rest. A refuge and a fortress Who holds time as a friend, and Who holds me within its grip for good reason and for extraordinary purpose. This is a picture I can trust. This is a faith I can believe. This is the sheltering that I need, thus I pray…
Keep me there, Father, nestled within your shadow and content to abide close near your heart. Frame my life within the timing of your will. You've given me my beginning; continue to shelter me as I journey toward my end. You are that end, God. May the moments that I walk forward from this one be filled with the shadowing truth that all moments walked with you, walk living and on purpose. Thank you for a Love that will not let me go. Amen.

Copyright © April 2009 – Elaine Olsen