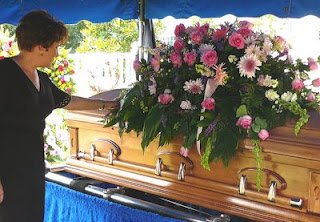 I suppose I owe you post. It's been a few days; still and yet, I'm struggling for my words. My heart isn't here.
My heart is there, underneath a blue tent that shelters the freshly dug grave of my friend, Beth.
My heart is in a hospital room, where Beth's daughter has just, this morning, given birth to a little girl who will only know her grandmother through the memories given to her by others.
My heart is in a home where a husband walks in isolation from his bride of twenty-five years, bumping into remembrances at every turn.
My heart is with two parents who valiantly and gracefully walked hand in hand to bury their daughter; a walk no parent should have to make.
My heart is with extended family, brothers, in-laws, aunt and uncles and cousins enough to fill a sanctuary—all of whom are trying to make sense out of a "life gone too soon."
My heart is there, everywhere but here. Still and yet, I come and offer it to you for you are my friends, also. I imagine that there are many of you who are walking your own road of grief this day. Life is dishing you out a heavy portion of pain, and you are unsure about what to do with it; how to manage it; where to stuff it, and how to move on from it.
You walk in good company. You are not alone in your weariness of heart of soul. Like you … like so many others … I am walking with my pain. And while it pales in comparison to the grief of a family who knew Beth longer and loved her deeper, it still hurts and leaves me with a few lingering questions.
I won't tackle these questions today; at least not publicly. Some conversations are best reserved for the private intimacy between Father and child. My faith isn't based on my questions. My faith supersedes my questions. The questions are simply the road map God uses to draw my heart closer to his.
Graciously, he allows them. Humbly I ask them. Patiently, I wait for the answers. I believe they will come; if not fully, then with at least enough understanding to carry me through to the other side, when "partial" will give way to "complete."
I can live with that, friends, because I firmly believe that when it's time for me to "know," I'll know. Until then, God's peace is my guiding comfort. He's ready and available to me for the asking.
Thus, I ask for peace to cover my questions, my hurts and the hurts of Beth's loved ones. I don't ask for "down the road," I ask for now … for this moment. God is faithful to supply his touch one moment at a time until they collect and gather and become an hour lived in peace. An entire day walked in peace. A week, a month, a year, a lifetime that punctuates with the truth that God's peace is possible, is real and is active in the hearts of those who bow low enough and long enough to drink from its well.
I'm bowing today. There is peace to be tasted from God's cup. May you know his ample portion as well. As always,
Peace for the Journey,
~elaine