"Our desire is not that others might be relieved while you are hard pressed, but that there might be equality. At the present time your plenty will supply what they need, so that in turn their plenty will supply what you need. Then there will be equality, as it is written: 'He who gathered much did not have too much, and he who gathered little did not have too little.'" (2 Corinthians 8:13-15).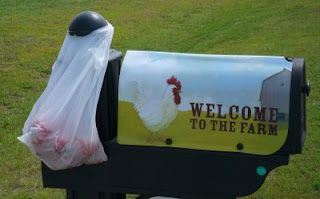 I saw it this morning. Right in the place where I've been seeing it all summer long. A bag filled with a garden's growing. A gracious plenty offered to me and my family by a retired couple who understand God's principle of surplus as outlined in Paul's letter to the Corinthians.
I don't know this couple well. They have only recently moved here, but in the time since their arrival, we've managed a few chats amidst my morning runs and have discovered a mutual love for God and for garden produce. They've instructed me that the hanging bags on the mailbox are meant for my retrieval. Gladly I receive, and today was no different.
It got me to thinking. To pondering about a heart that gives from the overflow of a garden. A luscious plenty that's been soiled and seeded, tilled and tended to with a harvest in mind. Rather than hoard and shelve their produce, my new friends have decided to share the wealth of their garden's growing.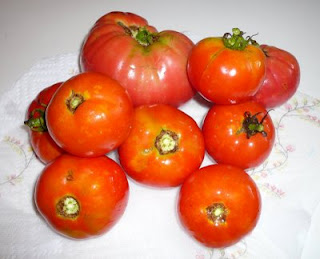 I like that. I like the surprise of seeing my bag hanging on their mailbox and of knowing that I've been thought about with the picking.
It's the way of an abundant heart. Of growing a surplus and then out of that overflow, sharing the extra with others in need. And while there are other, perhaps more pressing needs in my own life, I am tendered and touched by the hearts of people who understand that giving always yields a return. If not immediate, then somewhere down the road.
As I examine my own life, I look for the plenty. For the extra measure of a garden's growth that could be shared with others. What about you? Where does your plenty lie this day?
Look at your hands, your heart, your giftings, and your wallet. Examine them under the light of Calvary's grace and with the measure of God's goodness and tell me, where is your plenty?
Plenty. Perisseuma in the Greek meaning "to abound; surplus; abundance in which one delights; that which fills the heart; that which is leftover; remains; residue."[i]

We all have an existing plenty. Regardless of our outpouring—whether financially, physically, spiritually, emotionally—there exists a surplus somewhere within. A plenty that is meant to be shared for the benefit and for the building up of the body. We don't often feel this to be the case, for we are a busy and tired people with an output level that leaves us saddled with our weary.
So often, we crawl to our beds and pray for the strength to walk another day, giving little attention to any needs other than the ones that frame our flesh. Left unattended and unnoticed, our needs become our blinding, and our plenty is shelved and buried beneath the weight of an inward focus.
It's the way of selfish heart—a perfected "taking" that harbors the lie that we have nothing left in our reserves to offer. No surplus or residue thereof for the sharing. No bags to hang on the mailbox. No garden's growth and thus, no produce to feed my neighbors.
It's been the way of my heart lately, and it's not healthy. And while God allows me my tired and weary with a depth of understanding and healing that only he can offer, he expects me to keep an outward focus…even during my times of refueling.
My resources may be limited on all fronts, but there is still some surplus in reserves. His name is Jesus, and he is my overflow. The residue of his abiding presence can be seen, felt, and tasted through this heart of mine. My plenty may shape different than yours, but its seeding comes through the same grace. The Someone we each hold far outweighs the temporal offering of our hands.
We can give our neighbors Jesus, even when we feel that we've little to offer. We do so through our words, our simple acts of kindness, our attitudes, our compassion, our prayers, and through our hanging out of all manner of a sacred garden's produce that is meant for the taking and for the closer examination of a God's eternal plenty.
You, my friends, are so faithful to hang out that bag for me everyday. You may feel that your garden harvests lean and sparse, but as I travel through this journey in cyberspace, I've come to count on finding your "bags" of blessing hanging out on your mailbox throughout the week. Indeed, our blogs all package differently, but this is the beauty of God's garden. He seeds our soil with uniqueness, yet with a fullness that weaves a sacred and perfected masterpiece.
Your plenty often fills my need with the overflow of a Father's love. I am eternally grateful for our yoking alongside one another. You've fed me with the bread of heaven, and I feel so privileged to share this road with you. All this to say…
Keep to it. Keep tending to your garden and keep packaging up God's blessings to pass on to those who are dropping by for a taste. I know it's not always easy. Even today, I painfully struggle to write a complete thought. But God's love compels me to do so, for perhaps somewhere in the doing, my meager surplus might be enough to equal your hungering need. Like my neighbors, I hang Jesus out for the entire world to see. And He, my friends, is the gracious plenty who is more than enough to garden a world's hunger with the finest bread of heaven.
Let it be so for each one of us today. May the eternal seeding of the Eternal One harvest rich and plentiful in and through your heart this very night. From this mailbox to yours, I'm so glad that you took the time to stop by for a visit. You have been purposefully thought about with this "picking."
In the name of the Father, and of the Son, and of the abiding and breathing Holy Spirit, Amen.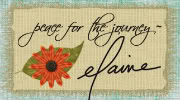 So, how is your garden growing? What's hanging on your mailbox today? I'd love to come by for a taste. Shalom.
Copyright © August 2008 – Elaine Olsen. All rights reserved.
[i] Spiros Zodiates, The Complete Word Study Dictionary New Testament (Chattanooga: AMG Publishers, 1994), 1150.
You might also like: